Modular Bars Industry and Customers
There are hundred thousands of people in the restaurant and bar industry across the globe enjoying the benefits of owning and operating their restaurant or hotels' bars using a tailored modular bar system. People who source them are restaurant chains such as Chili's, Fridays, Outback, Olive Garden, Bennigan's, Red Lobster; hotels as Hilton, Trump, Marriott, Hyatt, Wyndham, Radisson, Starwood award winning clubs and bars in high street locations, or Casinos like Bellagio, Caesars, Wynn, Trump, Venetian, Paris., where bar business is booming modular bar systems are a standard.
In the west this is a century old industry and business standard with leading modular bar manufacturers based out of England and United States serving markets as Middle east, the Americas, Europe, and Caribbean. Modular bar brands have become an international success like Glastender, Perlick, and IMC as most known and used that service national and international markets, followed by smaller brands who also serve local markets.

Picture Courtesy: www.glastender.com
Modular Bar History in India with Brand Houses
Here in India many leading businesses and people have selected the use of modular underbar equipment such as various luxury hotels as Taj, Wyndham, The Park, ITC Group, Radisson, Accor, The Lalit; and premium restaurant or clubs as Tote, Lap, Olive, Indigo, Taman Gang, Rockman's, Fireflies, Sportsbar in UB City; yet a big chunk still refrains from using the advanced systems instead finds solace in bad replicas or locally fabricated options. Most respond the reason is to negate higher expense when the bartender can still do their jobs on a custom fabricated conventional platform of prep stations.

Picture Courtesy: www.glastender.com
The Local Industry's Take on the Street
Walking through many shopping malls and seeing brands running a bars or standalone such as in Delhi's Select Citywalk, The Spaghetti Kitchen with a bar, Cocoa by Belgique, Geoffrey's or adjacently the Lighthouse 13, Buzz Restaurants; and in DLF, Hard Rock Café even Shiro at Samrat; and so many other outlets spread across all cities, Cibo, Moets, Club Circa, Hype Club, Royal Mirage, China Club, Café 1 Bar, Tryst and likes.
Why none of them have gone shopping for a standard of the industry and chose to operate from locally fabricated indigenous options? What separates them from the likes of Lap, Tote, Taman, Rockman's, and Olive?
In my early days of business, I've heard people tell why they don't want to go for modular bar systems:
A)     They are expensive and behind the counter. The guest is not watching them, why should I invest in what guest is not looking at? The bartender is going to make same drink from this counter as a slab of granite or locally fabricated steel.
B)      Locally fabricated bars are as good as advanced bar solutions and cheaper.
And then they would go spend on wall cladding, chandeliers, audio visual and interior design. I say look at the focus of your investment, where most successful companies focus on bettering customer service areas, these restaurant owners focus on décor. They would spend three times the budget on design because it appeals to their personal sense but lack in investing for the true meaning of starting a business, customer service and guest experience, even profitability.
The Art and Reason of Choosing Modular Bar Options
In choosing a modular bar options for one's outlet, my thoughts over the years have come about in India to this summation, through my experiences in working and speaking with all in the broad spectrum:
"Advanced Bar Systems are taken by people sure of their business and sure of themselves, who are dedicated to their work more than just as a monetary investment, but a profession. Those who intend to stay in it forever or at least for a decade and create brands; and those who like to reward their success with desire to up the ante to next level or performance."
This may include people who join this club because of working in industry for long time, or those professionally savvy bar owners that have a world view of the bar industry. The step of using an advanced modular bar solution comes naturally as a first step or the second step to them.
These people are excited about their work and achievements. They're proud of their teams and are rewarding in nature to themselves and their businesses. This is also the attitude that makes them guests' favorite destinations because of the passion they build in to their work.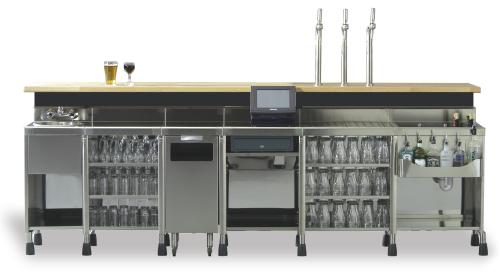 From left to right: Glastender | IMC | Perlick
Modular Bar Systems are performance rewards. They are better fabrications using intelligence in workflow management, technology, options, flexibility, and tailor-made advanced solutions in professional bar operations. Comparing advanced bar fabrication to indigenous custom fabrication and selecting is uninformed depicting ignorance of industry and standards of service. What are the types of users in India that go for Modular Underbar or Modular Bar Systems?
A)     Those who have worked in the industry as startup, created a brand using cheaper fabrications by just working very hard, they have reached a stage to empower their business with advanced bar solutions. They most definitely had a world experience, most of them and have had modern education.
B)      Those who have entered fresh in industry but with an international spectrum mindset of maintaining best standards because of their pre-existing successful background of business and exposure to best conditions in life.
Selecting an option therefore is more than just an act; it is a psychological and personal reflection of one's self in the area of their profession and business standards. It is also representative of business background, international standards understanding, but most of all it's the rewarding act to your business, team, and brand growth; and rewards come after success.